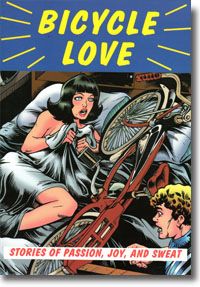 Bicycle Love
Stories of passion, joy and sweat!
All athletes love their sport, but cycling has a fetishistic side to it - the love of this deceptively simple machine that allows you to silently float, race, climb, glide over the earth. It brings the rush of wind to your ears and the surge of force through your body as you lean into a turn. It brings you to the fields and woods and sunshine, moving down the open road. Its beauty and charisma are undeniable.
These sixty-two personal tales of the many varieties of bicycle love range from dreamy reminiscences of childhood bikes to powerful, sometimes insane adult attachments to Mountain Bikes, Road Bikes, and Tandems. They all celebrate the freedom of cycling, the elegance of the machine, and the beauty of the act.
Reviews