Bicycling the Lewis & Clark Trail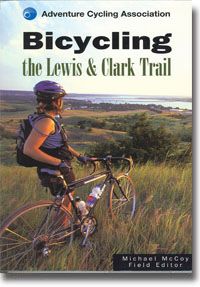 Bicycling the Lewis & Clark Trail
By Michael McCoy by the Adventure Cycling Association
This book has a crease across the front cover - other than that, the inside pages are in perfect condition.
Retrace Meriwether Lewis and William Clark's historic expedition from the saddle of the ultimate touring machine - your bicycle. From Hartford, Illinois (outside of St. Louis), to Astoria, Oregon, at the mouth of the Columbia River, the Lewis & Clark Trail passes through eleven states and winds more than 3,200 miles!
As it traverses the Missouri and Columbia river basins, the trail skirts corn and wheat fields, rolls across high prairie, descends into deep gorges, and penetrates Pacific Northwest rain forest. And all along the way, there are reminders of the Corps of Discovery's epic journey.
Reviews