Hiking and Backpacking: Essential Skills, Equipment and Safety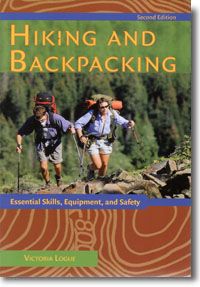 Hiking and Backpacking: Essential Skills, Equipment and Safety
By Victoria Logue
Essential skills, equipment, and safety. Hiking and Backpacking demystifies the outdoor experience, proving that you don't have to be a wilderness warrior to get back to nature and have fun. Whether you're a novice or a seasoned path master, the wealth of tips, techniques, and tricks will have you trailblazing like never before.
This book is divided into three major parts:
Getting Ready:

Details hike options and suggests ways to pick the best trails to fit your ability, time constraints, and interests, and choose your gear wisely

On the Trail:

Keeps you moving with advice on pacing yourself, hydration, hiking in the snow, navigating with GPS, using a Map and compass, and much more.

At Days End:

Helps you find a good camp, set up your kitchen, and maintain and repair equipment.
Whether you're out for an easy stroll, an overnight hike, or are tackling a long trail,
Hiking and Backpacking: Essential Skills, Equipment, and Safety
is the ticket to enjoying a safe and rewarding trail experience.
Reviews