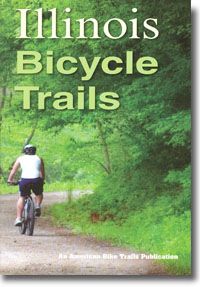 Illinois Bicycle Trails
By Ray Hoven for American Bike Trails
Where to bike on over 160 trails throughout the state. 2010 Edition of this popular title now in its fifth edition. A handy guide for off road Trails for Bicycling, Mountain Biking, Hiking, Cross-Country Skiing, Inline Skating, Snowmobiling and Horseback Riding.
Directions to trail sites and access points

Locations and distances to nearby communities

Trail distances, general setting & conditions.

Points of interest

State, sectional and selective county overviews

Riding tips; contacts for additional information; alternate trails and uses

Illinois parks - facilities and activities.



Reviews