The Complete Katy Trail Guidebook - Tenth Edition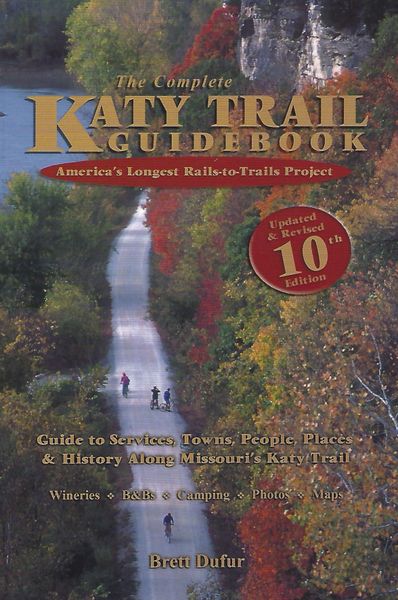 The Complete Katy Trail Guidebook - Tenth Edition
You won't find The Complete Katy Trail Guidebook ANYWHERE on the Internet for less than this price - guaranteed!*

Only $18.95  - far less than Amazon!  (Amazon is $59.95 + 3.99 shipping.  We ship at COST!) 
This item is on back/order.  By placing your order now, you will reserve and guarantee the lowest price of $18.95.   You will be placed on a special list for shipping when we receive the new books.  You will be notified when we ship.  Sorry for any inconvenience during the Christmas Season. 
America's longest Rail-Trail project!  A guidebook to services, towns, people, places and history along Missouri's Katy Trail, including Wineries, Bed & Breakfasts, & Camping.  Whether you're Hiking, Biking or Touring by car, this guidebook is the definitive resource to take you there.  
Often called "the Trail Bible", it includes Maps, Mileage Charts, handy service information for each town, photographs and features of some one-of-a-kind individuals you'll meet along the way.
(We will match the price of NEW condition only!)  

Reviews