Lance Armstrong Performance Program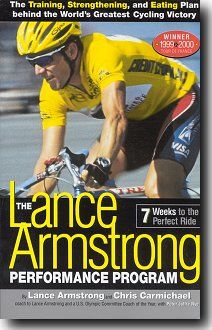 Lance Armstrong Performance Program
by Lance Armstrong and Chris Carmichael
7 Weeks to the Perfect Ride - The training, strengthening, and eating plan behind the world's greatest cycling victory.
In 199, Lance Armstrong staged what many consider the most dramatic comeback in sports history, winning the Tour de France just three years after his body was ravaged by cancer. His story of courage and determination has touched the world. But it took more than Lance himself to make it all happen.
There was also the Program - a multifaceted plan of strengthening, bicycling, and eating so strong and so effective that ti created a legend!
Reviews